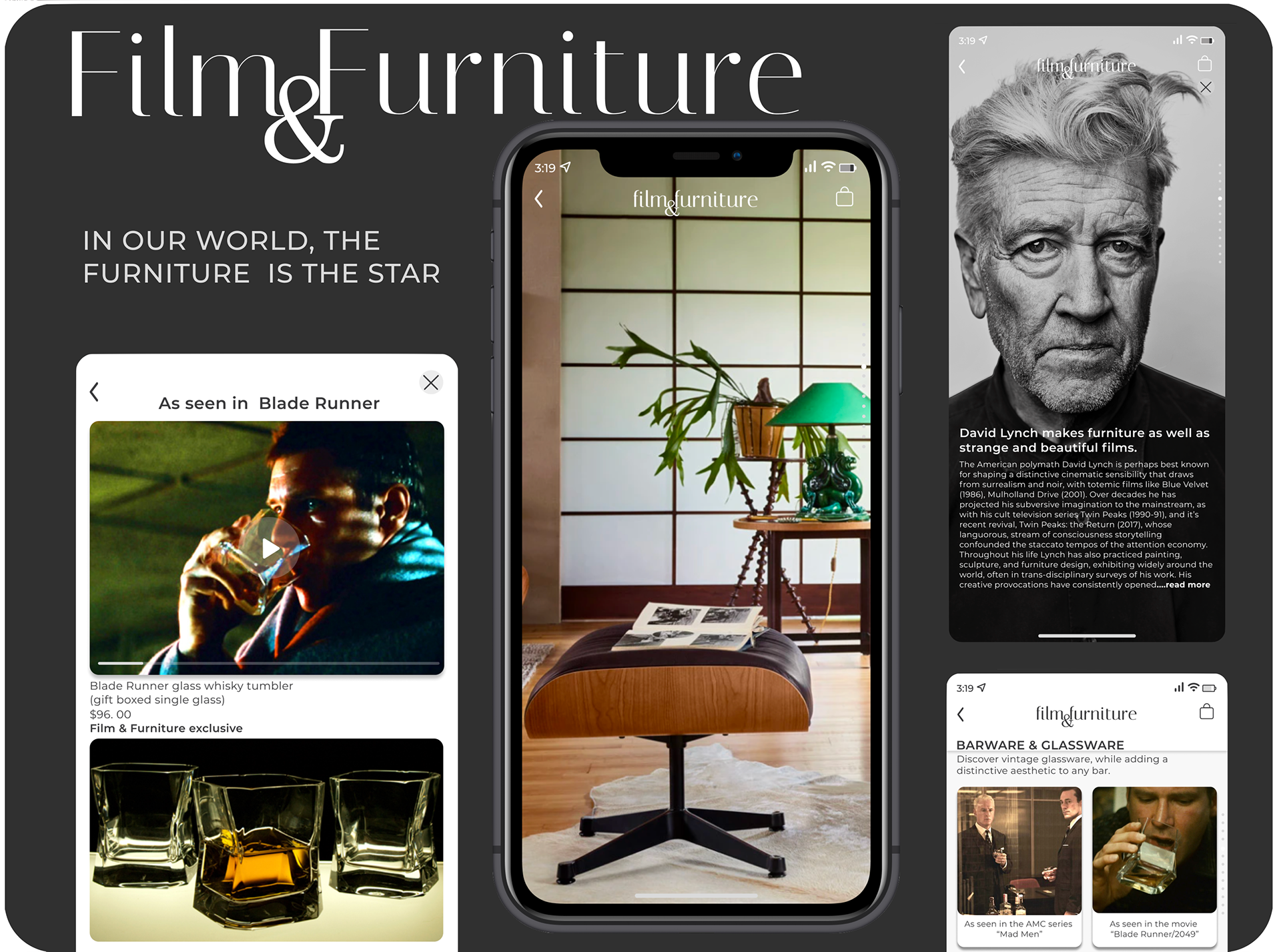 Establishing ease and efficiency when purchasing items for your home or office.

Film & Furniture, based out of the UK, began as a blog. It quickly developed into an online curated shopping experience. They offer items featured in film and television. They wish to keep
customers supporting their business
by purchasing with
efficiency and confidence. 
Product information
and
the VR feature
were important to the users.
I appreciated the
founder's pragmatic approach in addressing the business needs.
The
updates would be implemented by a team
consisting of an engineer, a web developer and a graphic designer.
​​​​​​​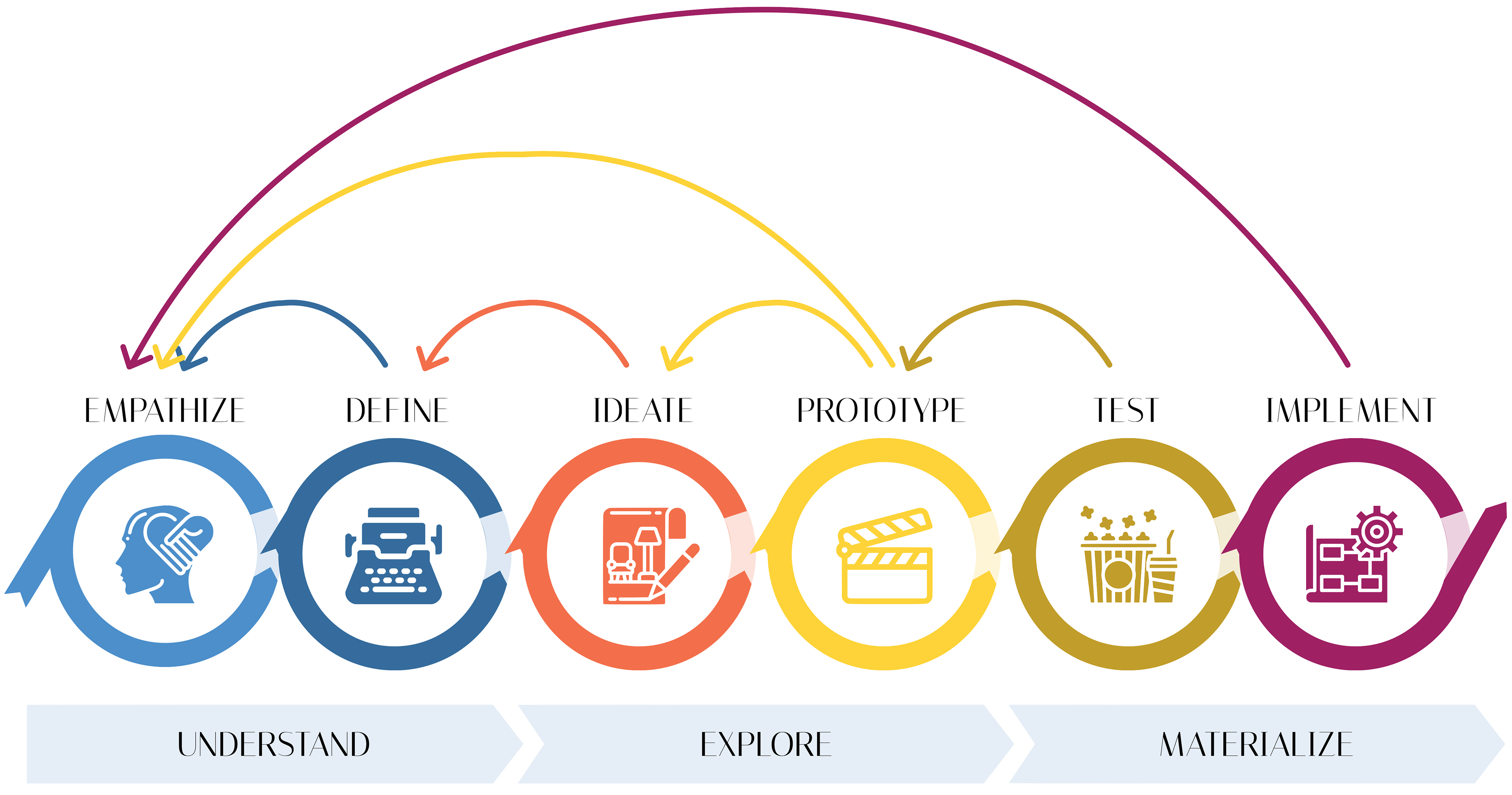 When
synthesizing all the research and data
, the consensus was the need for product info and reviews. Questionable features, which might not be of value to target users, were removed. Usability testing results generated the
need for

the VR fea

ture.

"There are no dimensions, but after looking at the table in a room on the site, I'm guessing it will fit in my living room."
The Film & Furniture site experienced a
drop in conversion rate
. Digital users would be directed to third-party sites, causing
confusion and an increase in the abandonment of carts.
Users found it
challenging to navigate
through the site and
couldn't 

find any reviews or product information.
​​​​​​​
Combining film and decor was an obvious concl

usion for the p

ersona, the cinematic decorator. The decorators want to
see how purchases would fit
and look in their home. They
find reviews with images useful.
​​​​​​​

After evaluating, the results are in...
"Only because I just started, can I tell that I'm on the first page, but it's not clearly visible."
​​​​​​​
During usability tests, users needed an indication of where they were.​​​​​​​ The evaluation led to giving users
the ability to view items in more detail.
• Target users
needed visibility of system status
to see what page they were at while shopping
(1)
• Second violation was the 
lack of help 
and documentation (2)
​​​​​​​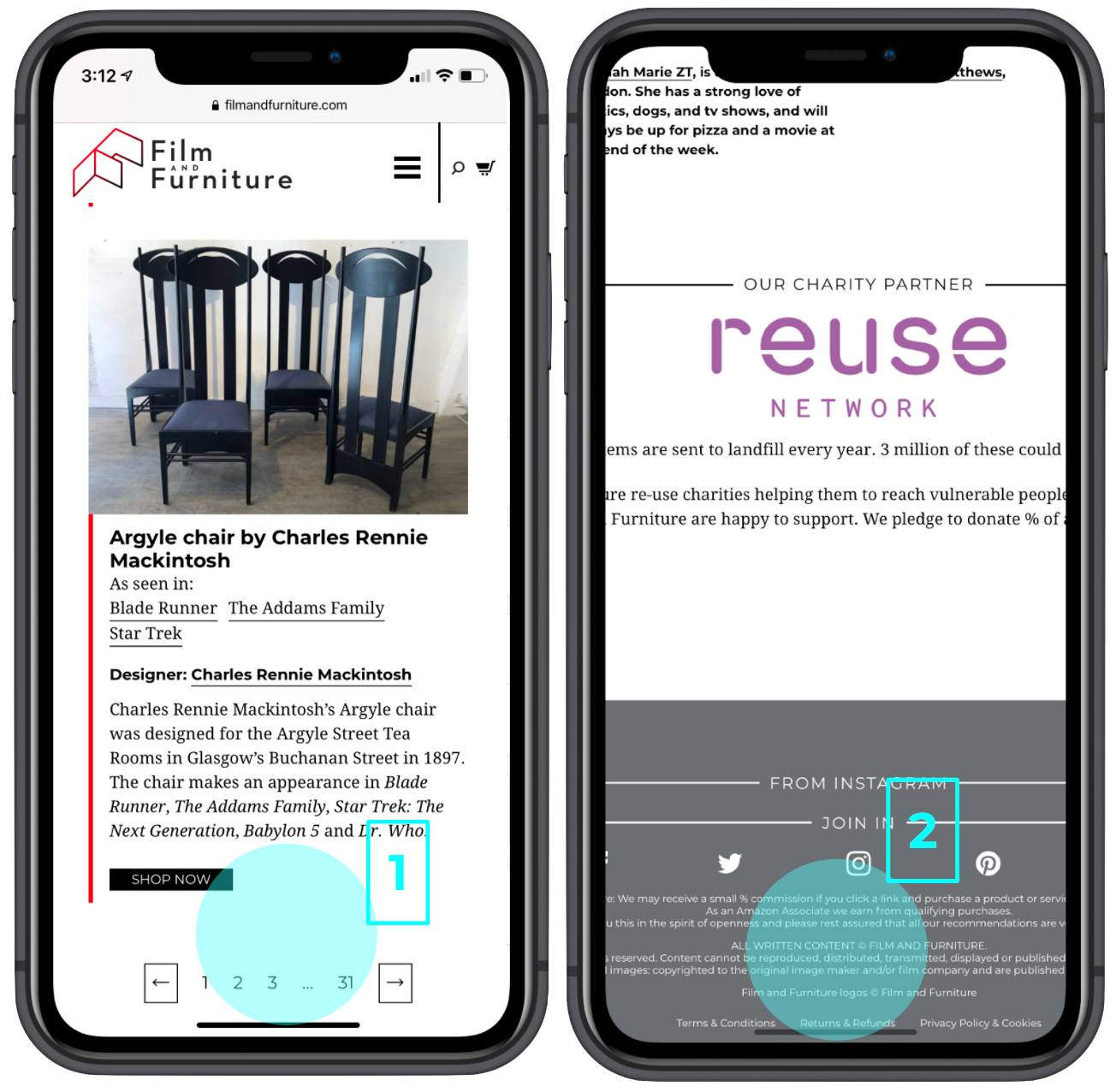 "I search for measurements to confirm it will fit in my place. I also look at reviews, with pictures."
The cinematic decorator
struggled to get through all the texts and images.
D

uplicated categories confused them.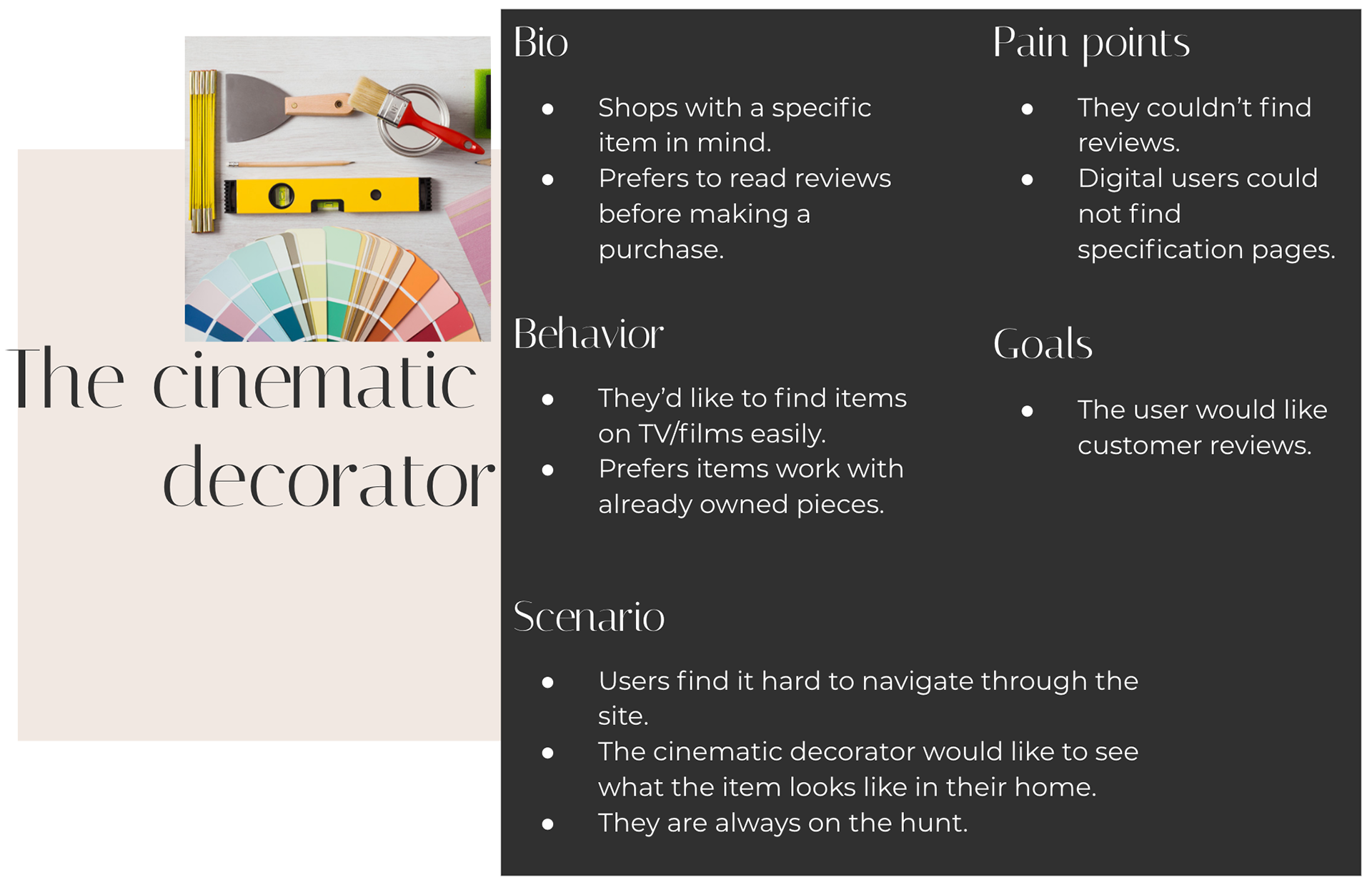 Let me take you on a journey 
The cinematic decorator needed item specifications and to see how items fit with their current decor. Instead of being an enjoyable shopping experience, they
expressed the pain-point of being lost within the site
while hunting for measurements and expressing the
need & value in reviews.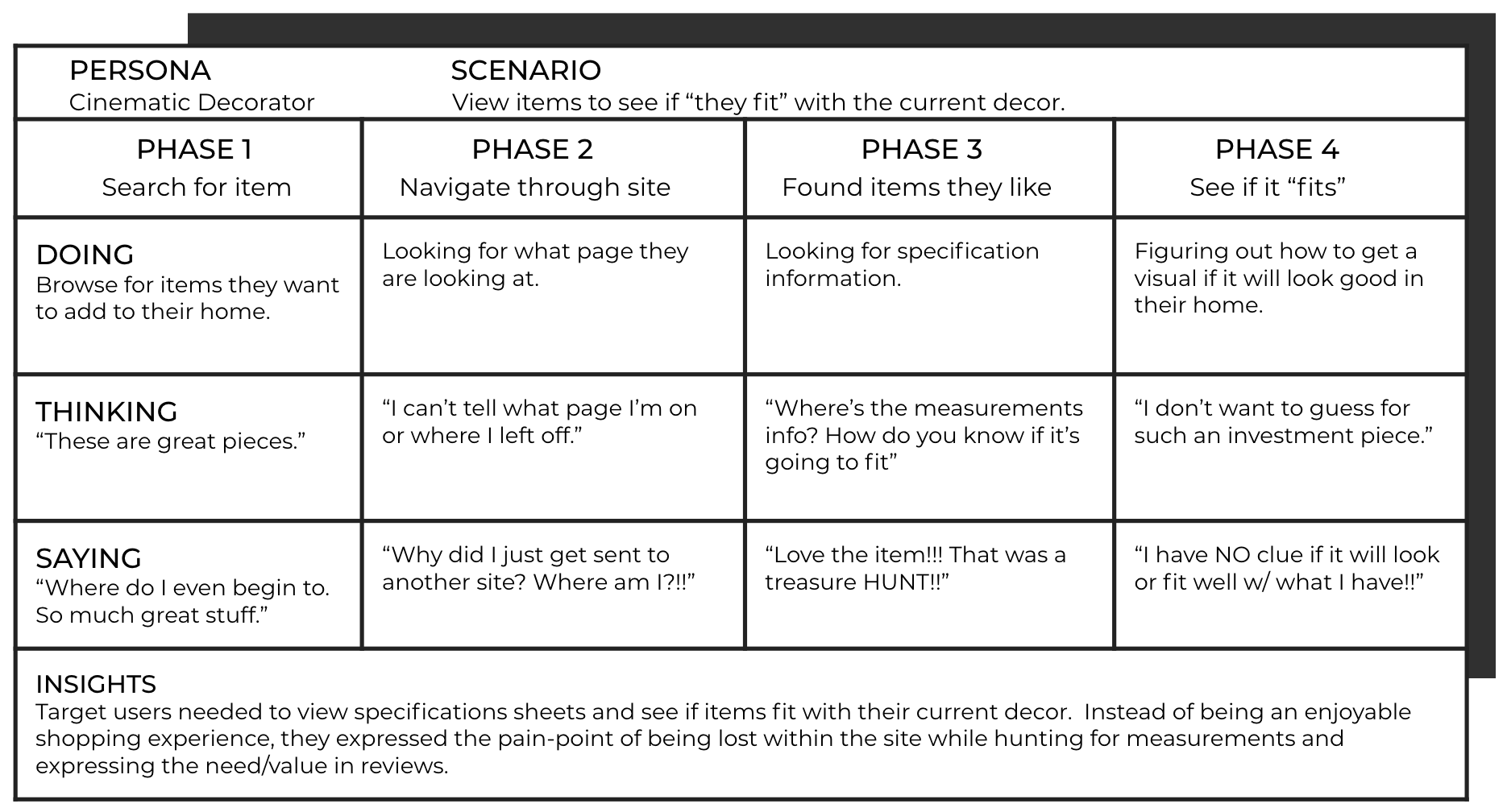 Zara home
gives users both product info while being able to view prices. Users have a separate screen to see measurements along with care instructions.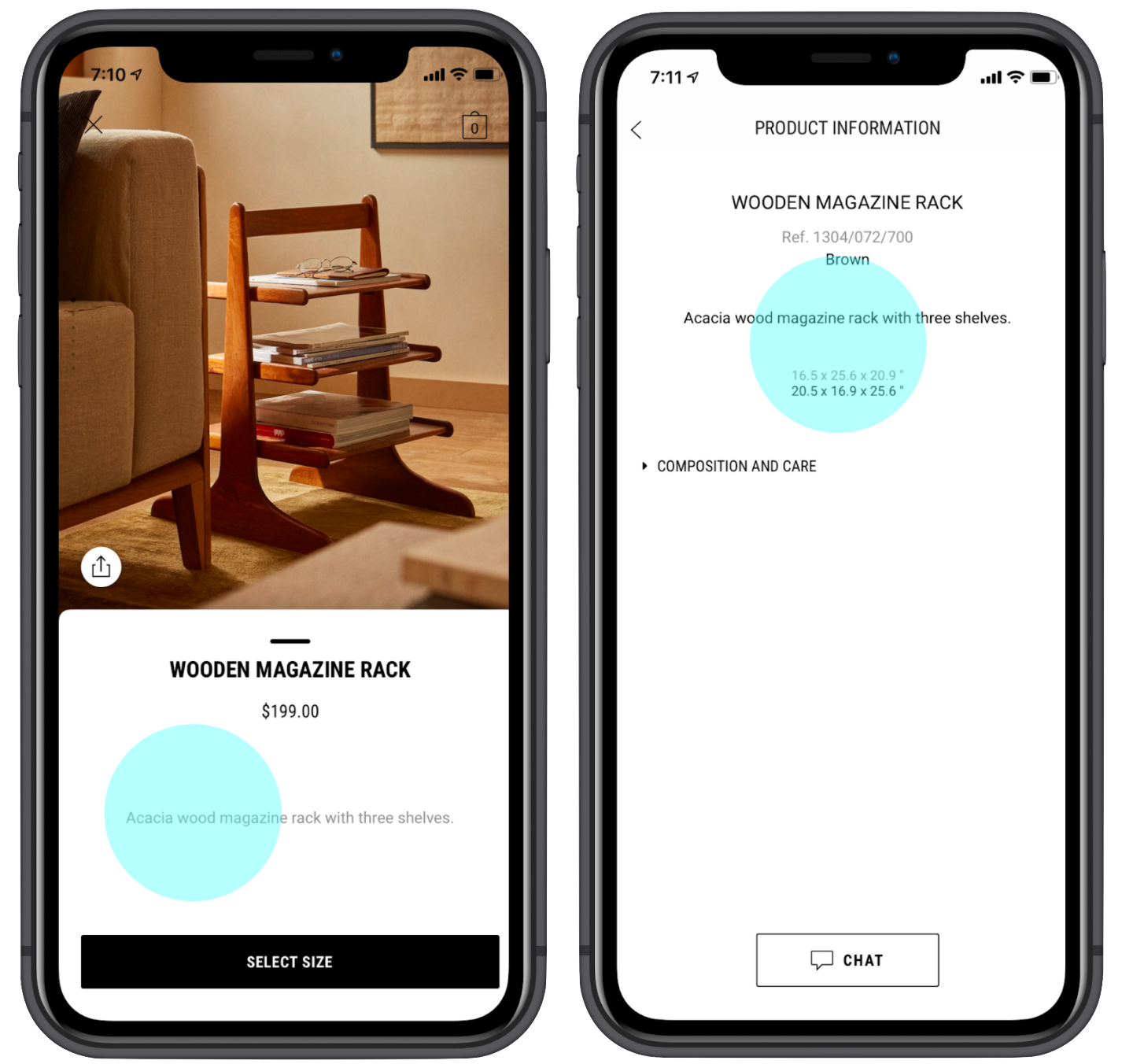 Both
allbirds and Ikea
give the user a virtual representation of furniture in your home and a virtual fit with sneakers.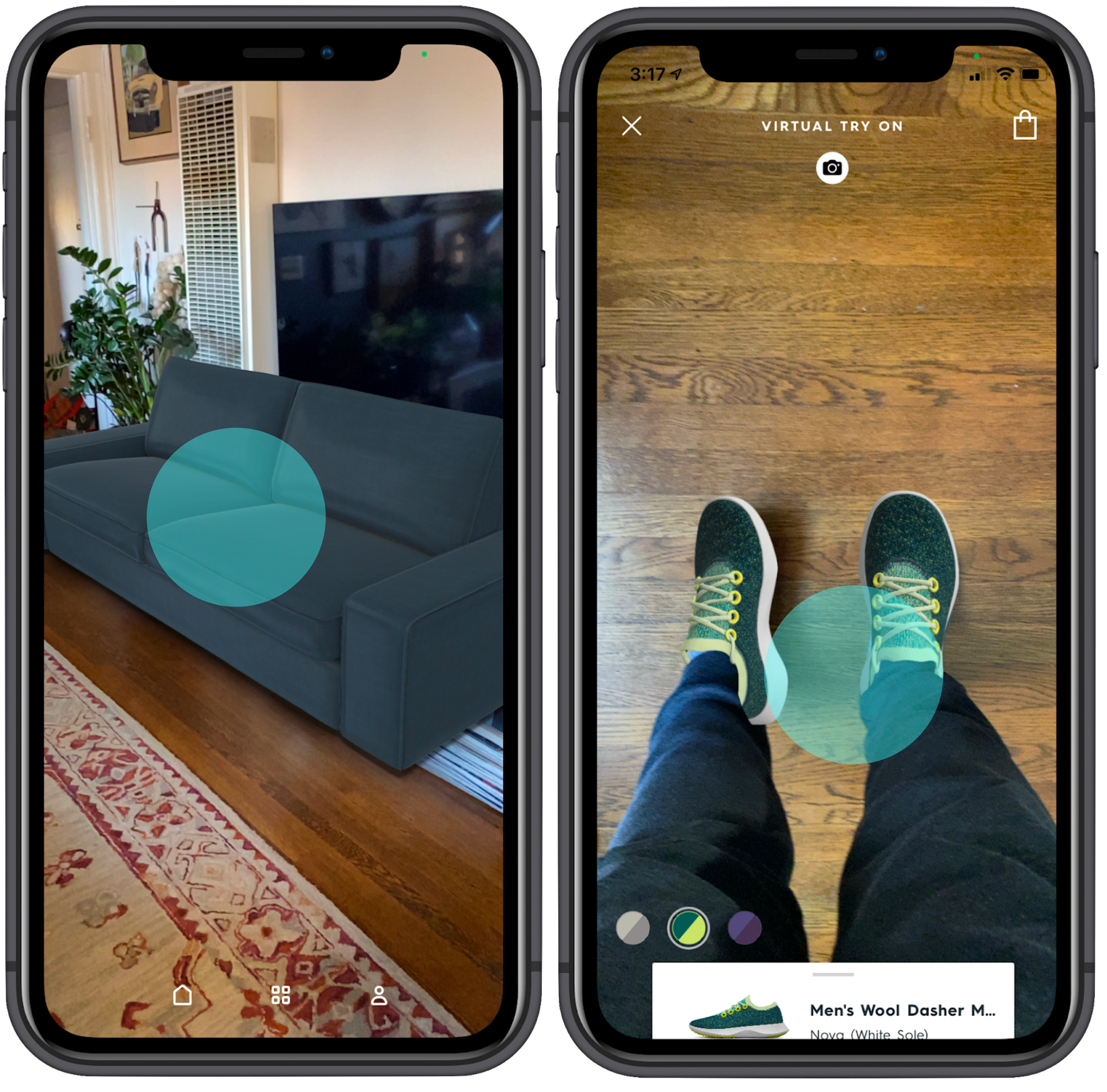 What seems to be the problem here?
"I wanted to see measurements and

product info, but

I can't find it!!" 
•

Prefers an easier experience

and
not get lost by all the categories
• Less text to get through on the page
• Would like to
view items in their home before purchasing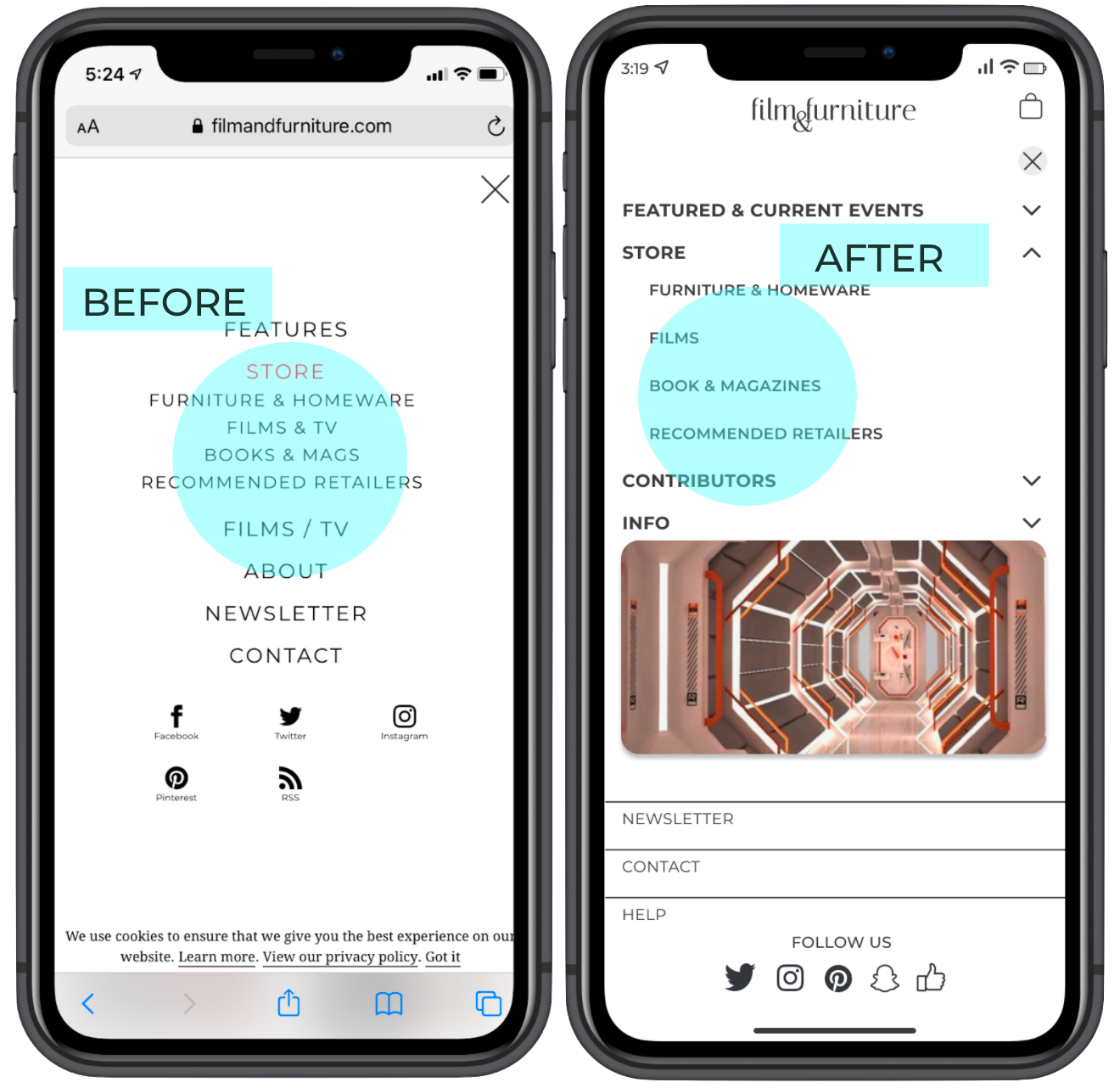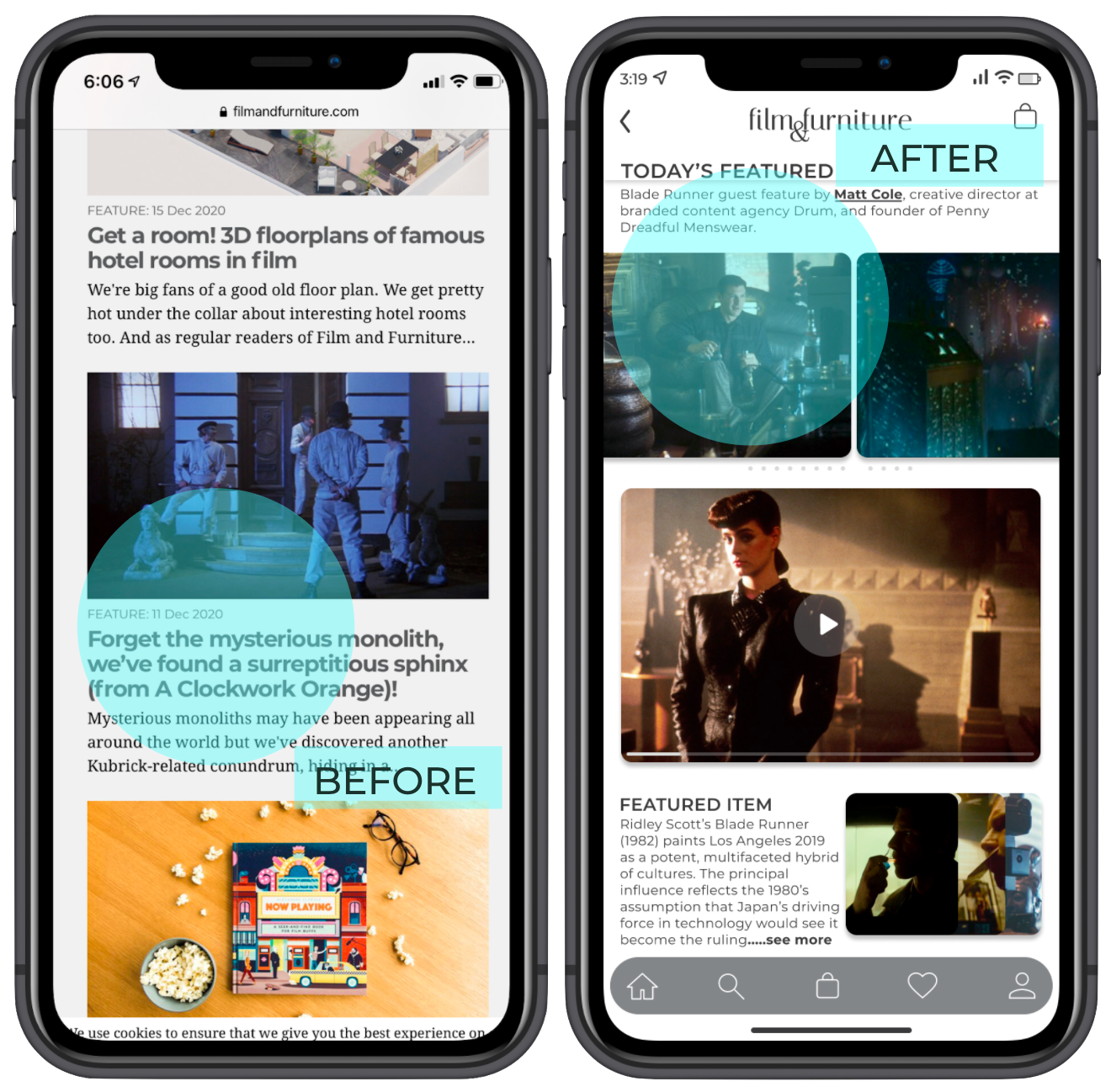 The hypothesis is telling me..
• Add customer reviews with images, and product information
• The ability to see how, where, and if items will fit in their home or office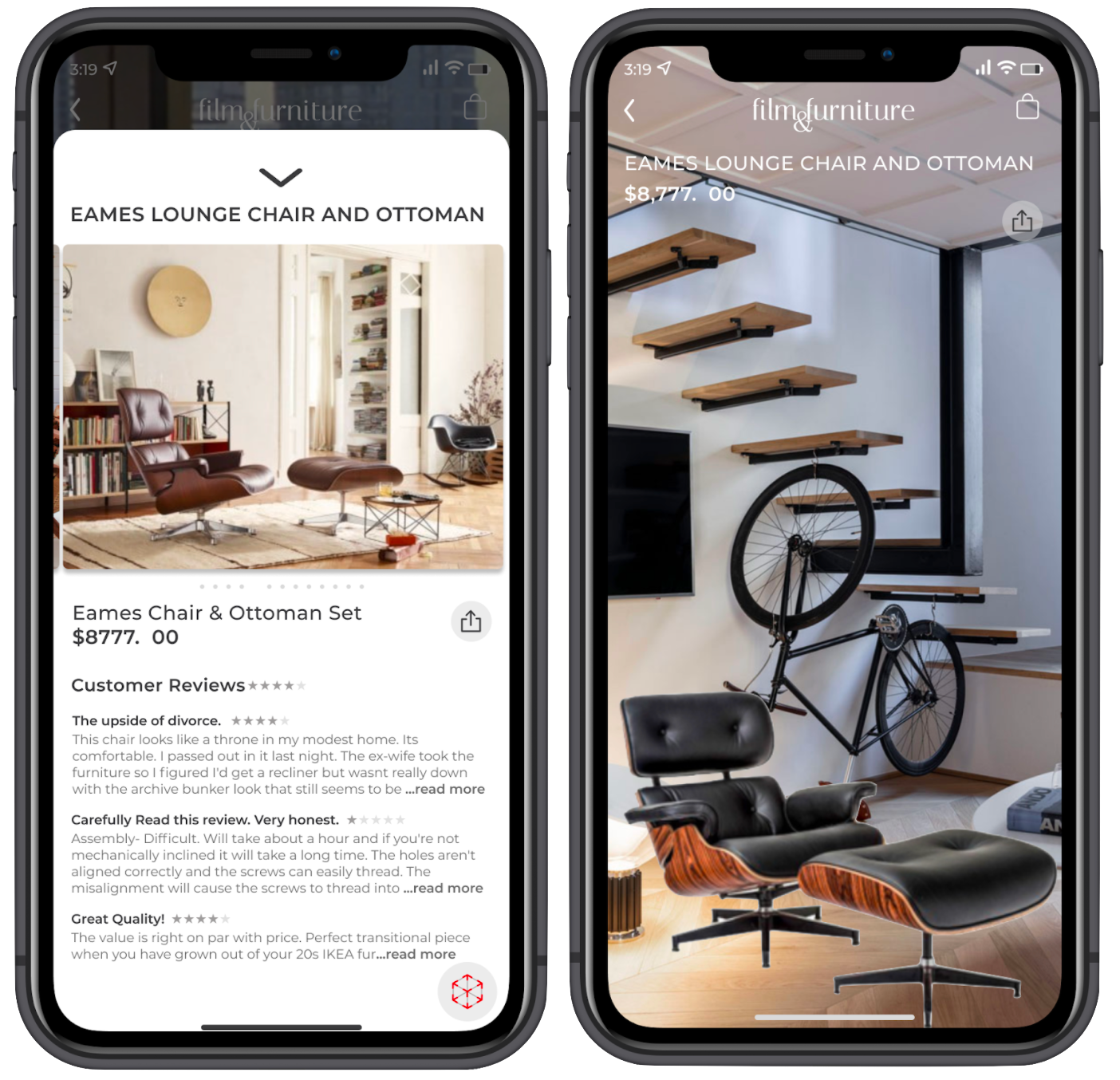 How's the foundation architecture?
"It's a little hard to see what I'm shopping for because of the way it's organized."
The current site had categories that
left testers confused and lost.
There were
duplicate categories
within categories, causing users to question what page they were at.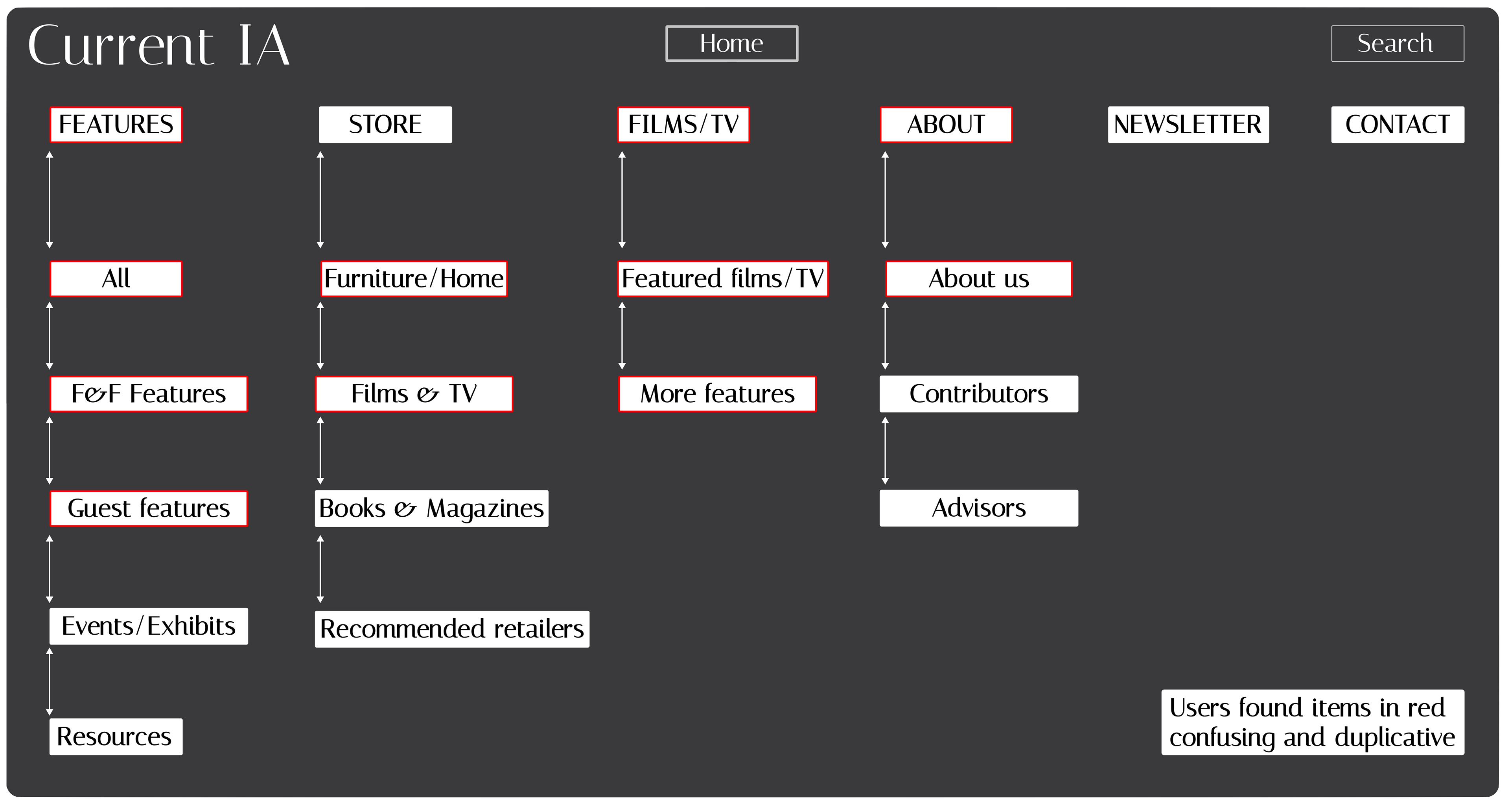 Merging the informational architecture created a
smoother shopping experience
for the users while
decreasing cart abandonment.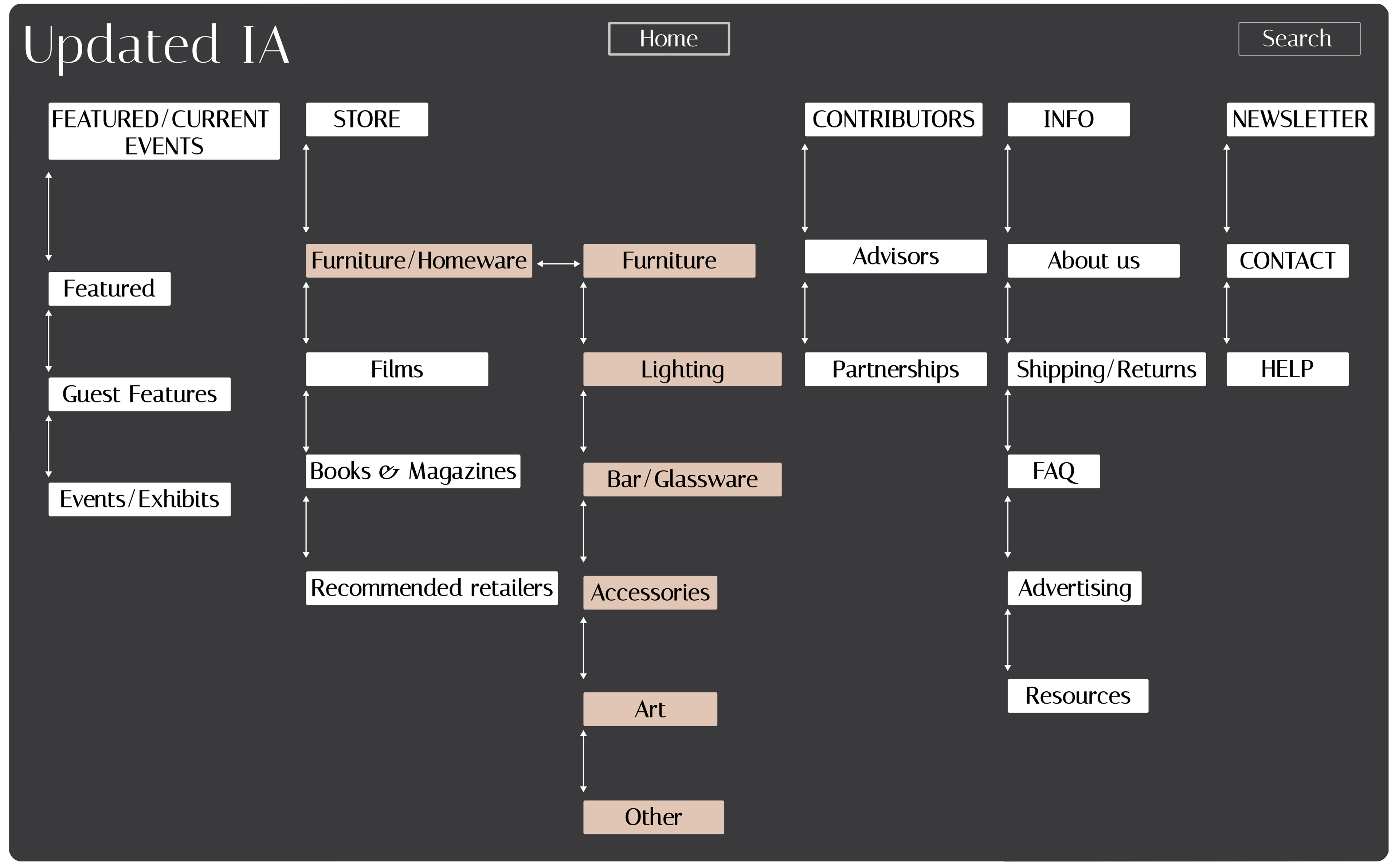 Work out your thoughts, pen to paper
The process begins with the
users' journey through their pain points
. It highlights the steps to complete a specific task while giving
visibility for any iterations needed.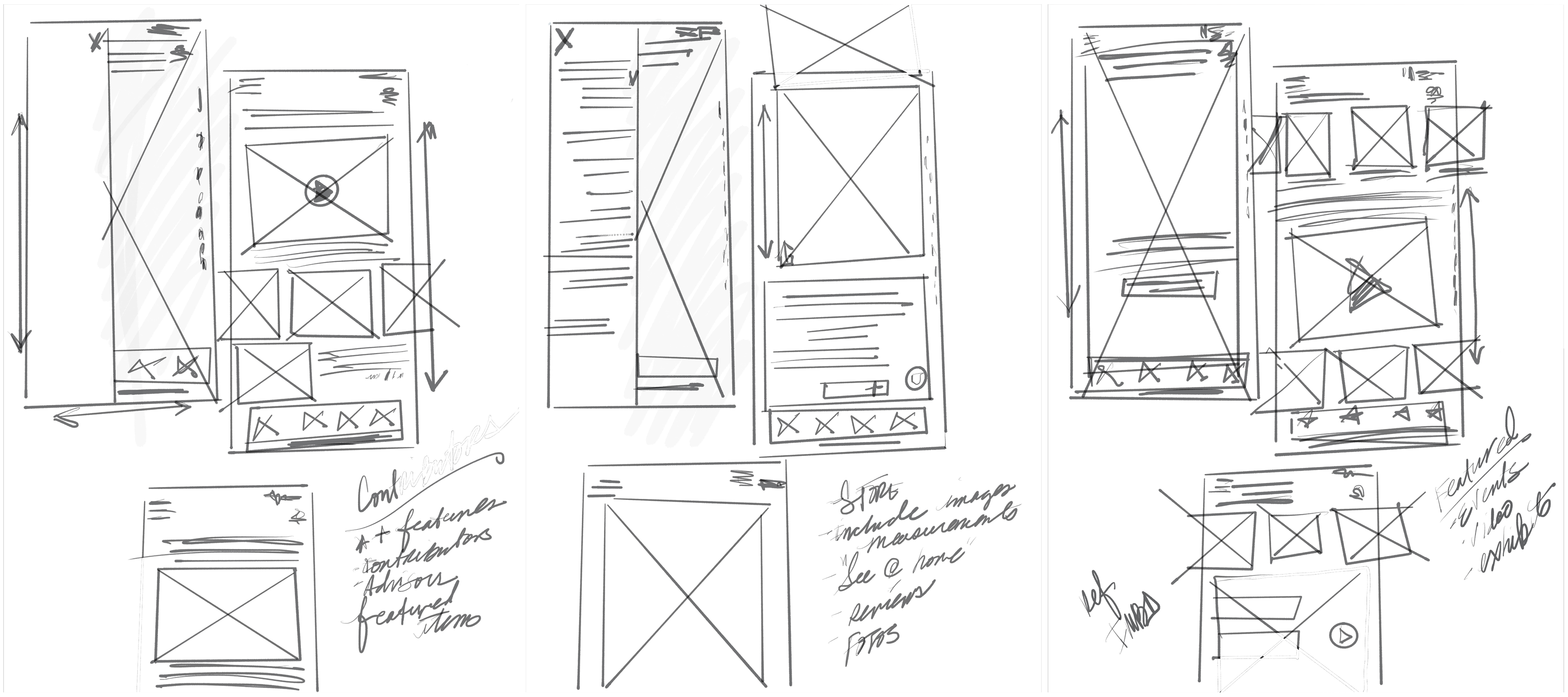 Iterate before committing to wireframes
There's always a need to work things out before committing to wireframes. This is my 
discovery point for any iteration needed
, as opposed to being in the trenches with high-fidelity frames.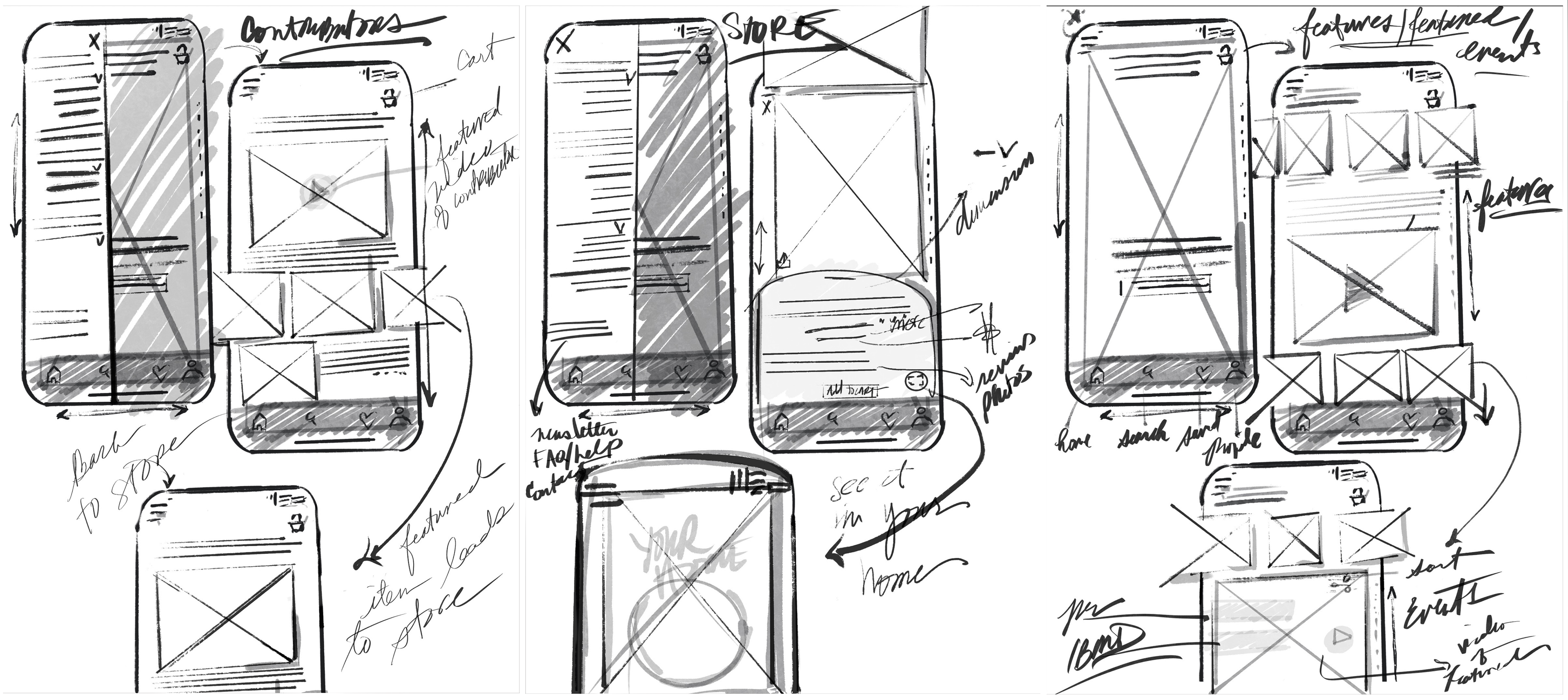 "The white color at the bottom looks like an afterthought."
• 
Testing results aligned with the transparent bar at the bottom. Testers found it was still visible while not interrupting the visual aesthetic
(1)
• 
The smaller scale images were easier to view. Testers found the larger image frames
competing for attention (2)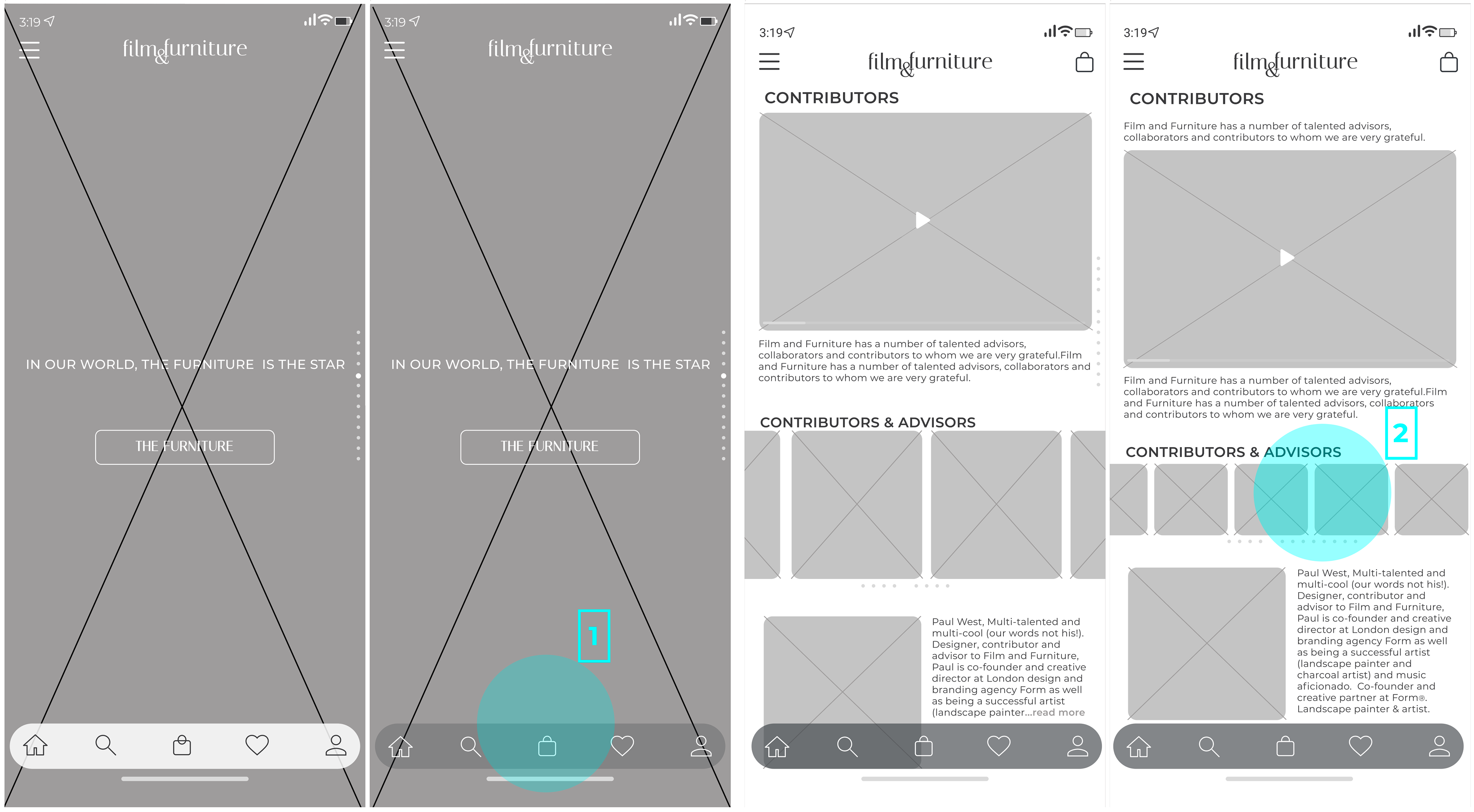 "Let's work through the iterations and how they tested"?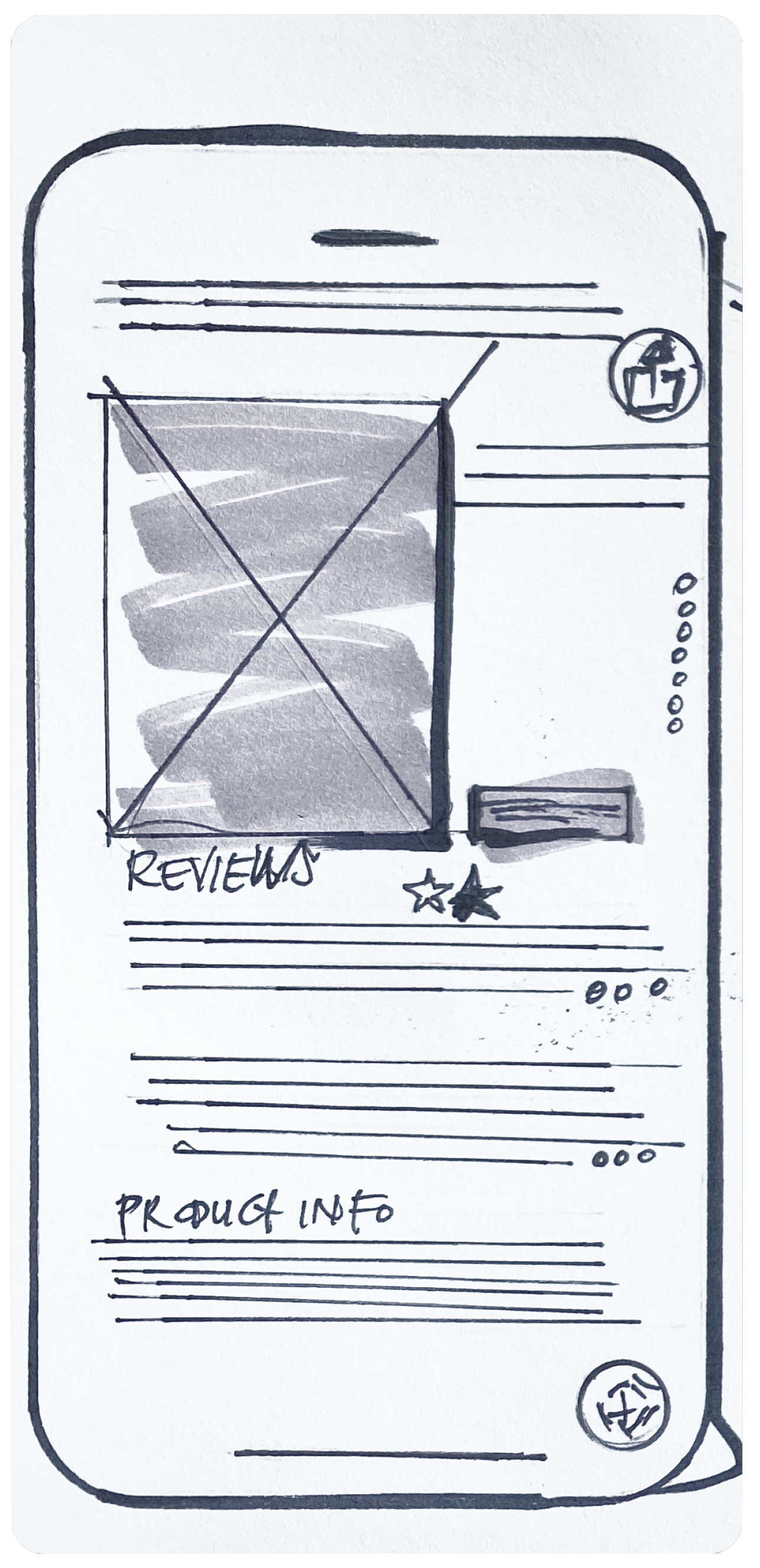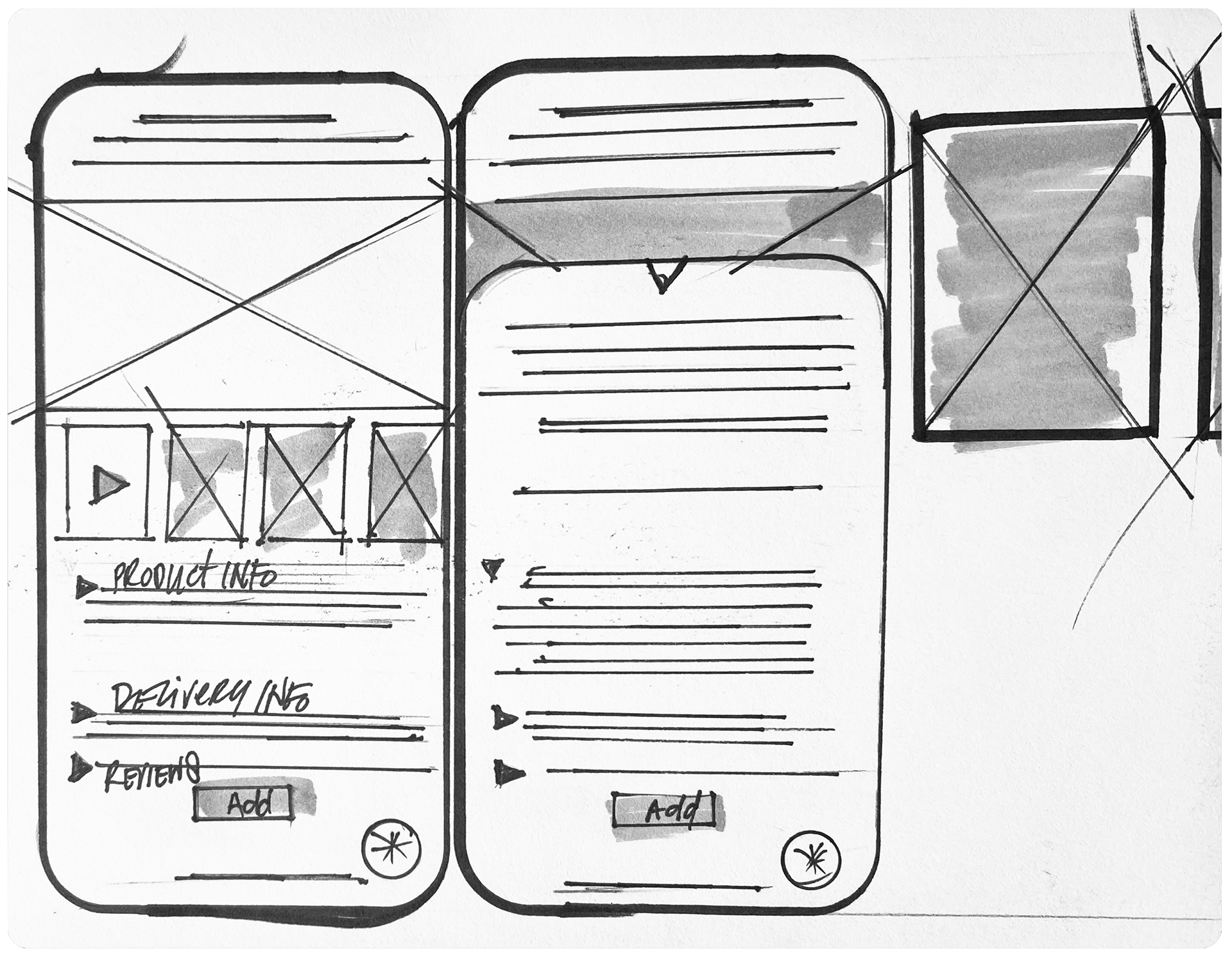 • Though this would
load faster due to fewer images
, testers felt still
heavy with text,
the
problem wasn't solved 
(1)
• This option was
heavy with images
, which takes
longer to load. 
It
 broke the rule of minimalism design
, causing  testers to
struggle with the level of importance 
(2)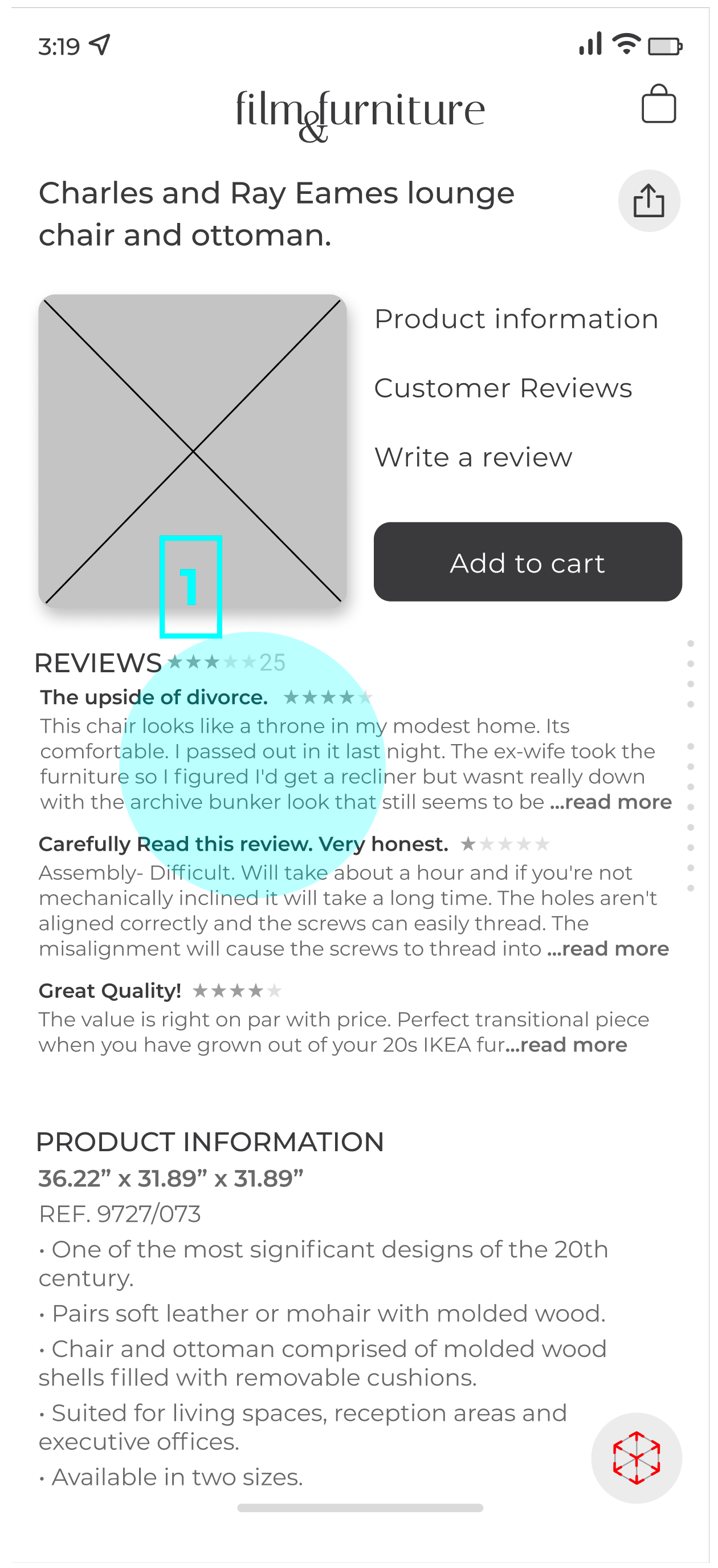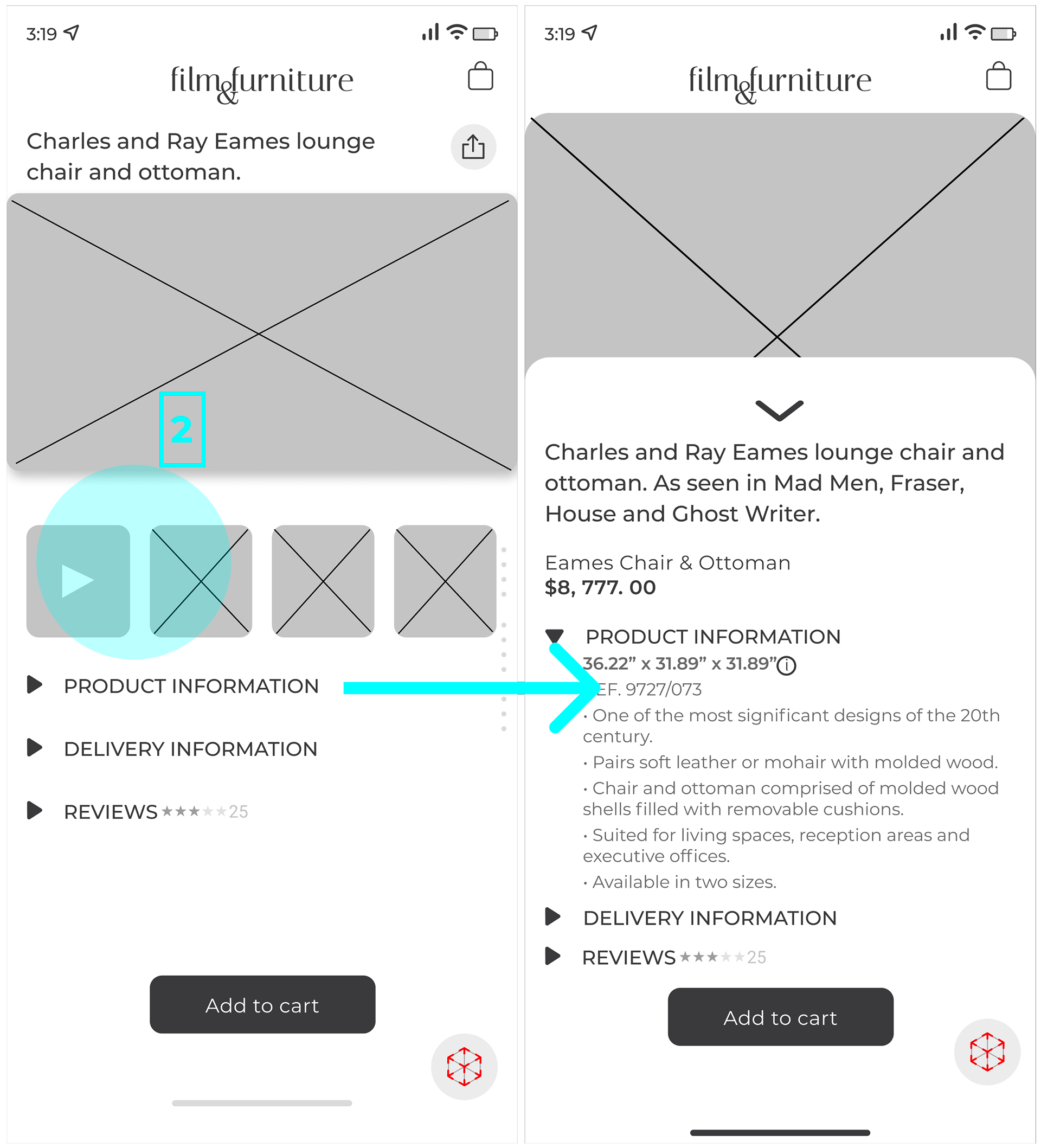 "The featured attraction

"
• The final iteration addressed users' need to
distinguish the hierarchy
•
Product cards
were important for
increasing visibility in searches
•
Micro-interactions
engaged 
users and provided feedback
per their actions 
(3)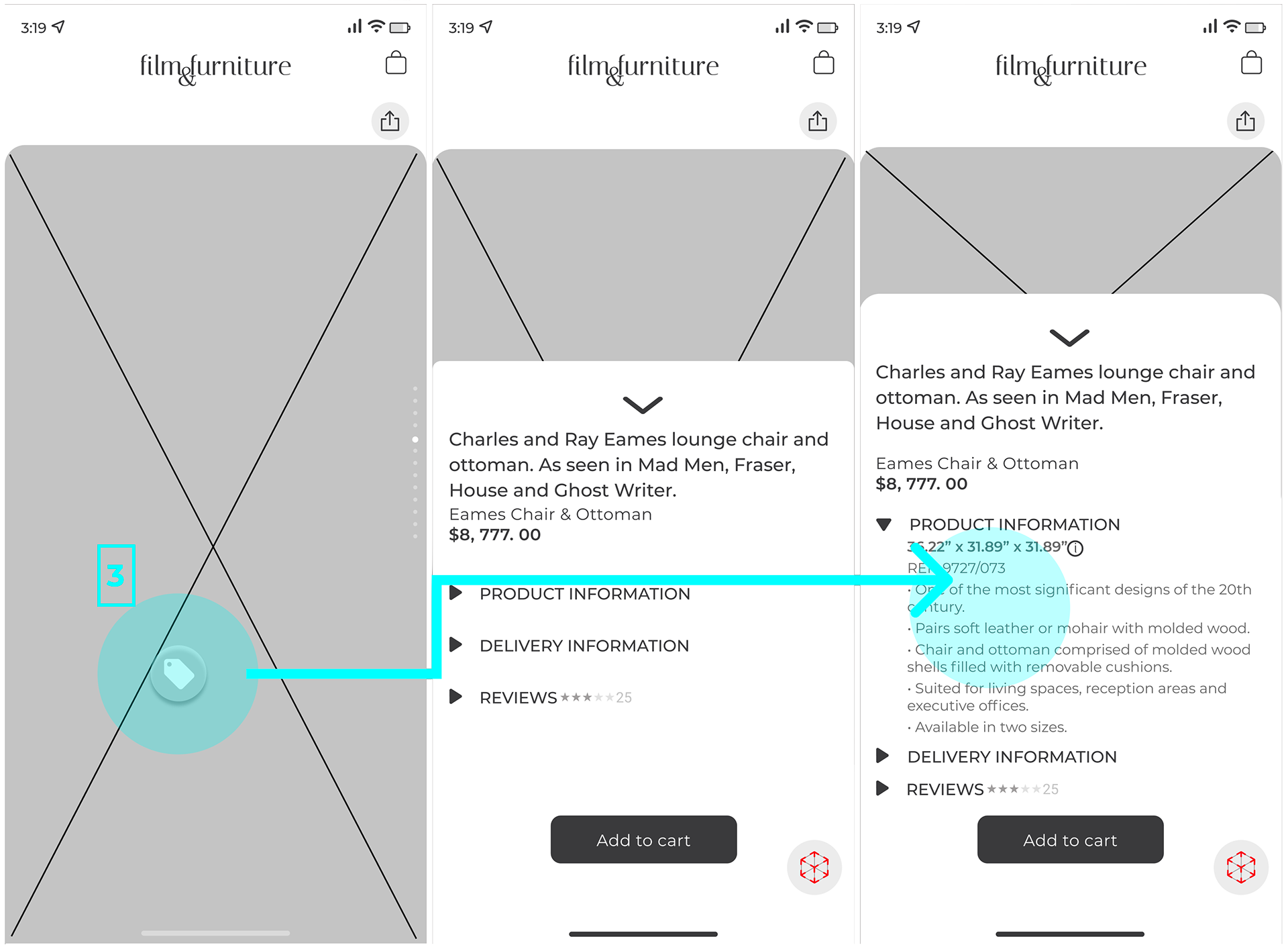 There were
certain features that tested horribly; 
• T

oo many affordances in the same frame caused confusion
• This led to a need to
e

dit down
or deleted unnecessary CTA buttons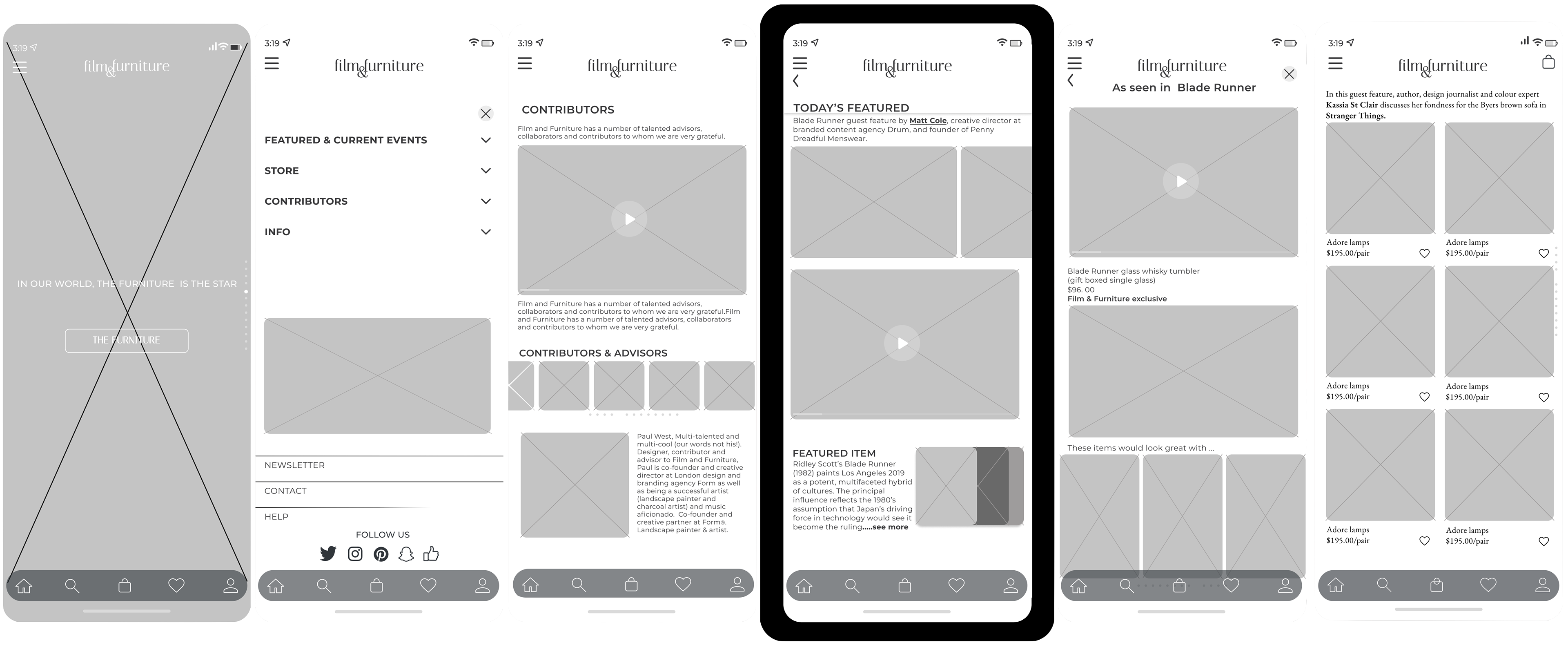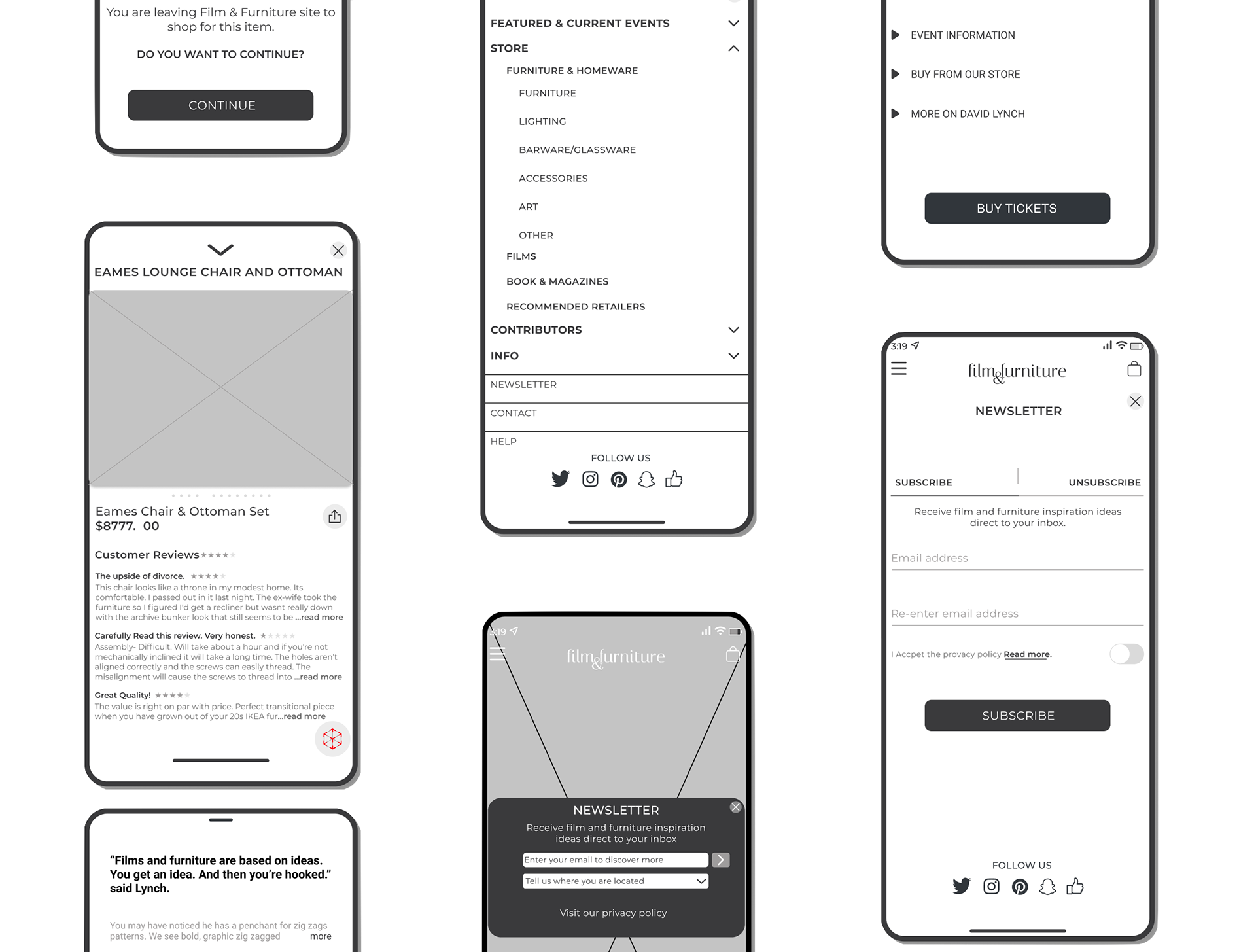 Branding required a fresh coat of paint; a
redesign to simplify
the overall experience. Creating the design system was a bit of back and forth. 
The system was
updated to have a cohesive, minimal branding approach.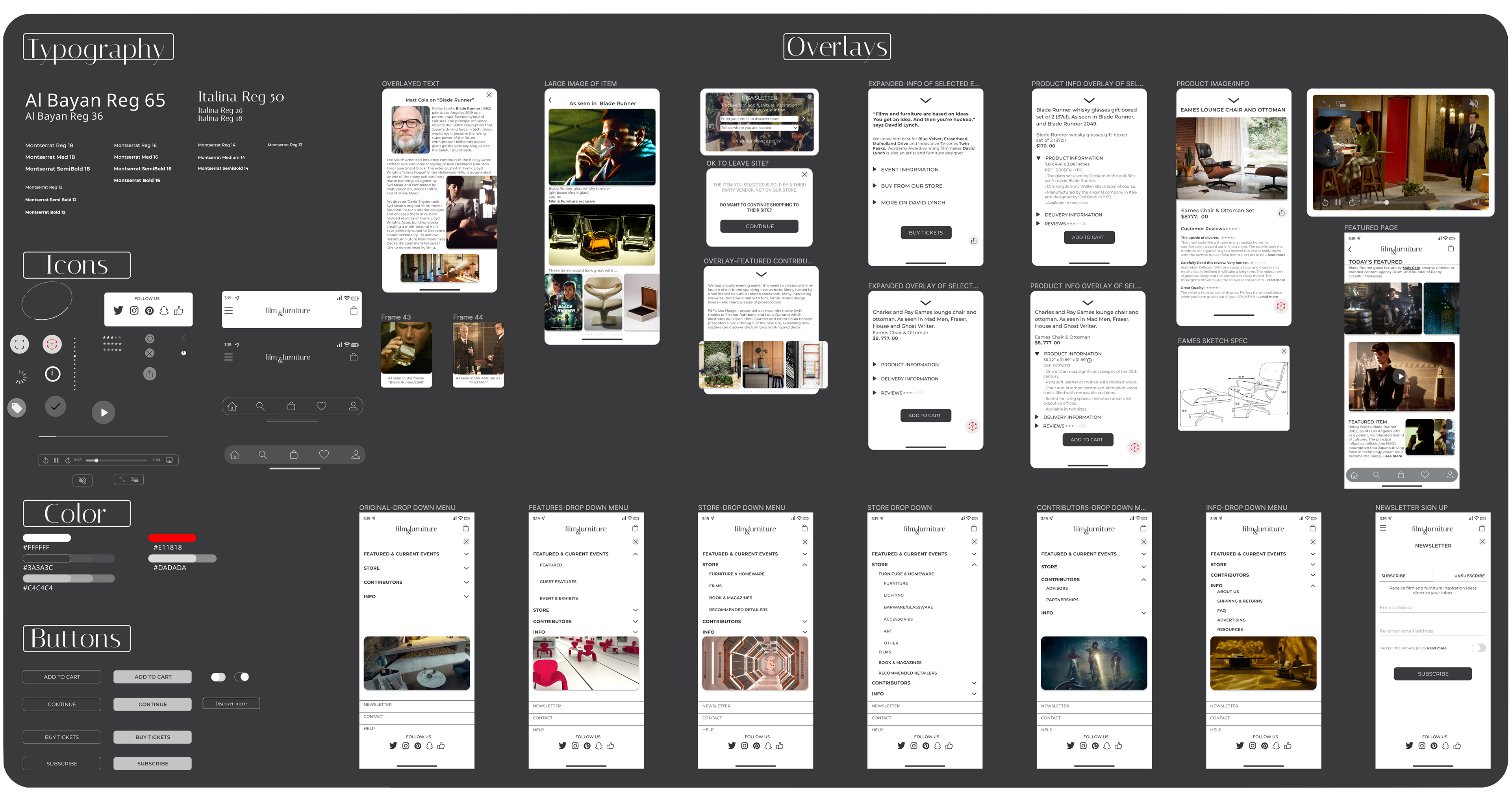 "There are still too many steps to complete this task, I feel there is a need for simplification."
Usability testing on the final prototype confirmed how crucial it is to
test, test, test!!! 
Certain testers got lost when asked to complete certain tasks. This led to
simplify and delete excessive frames.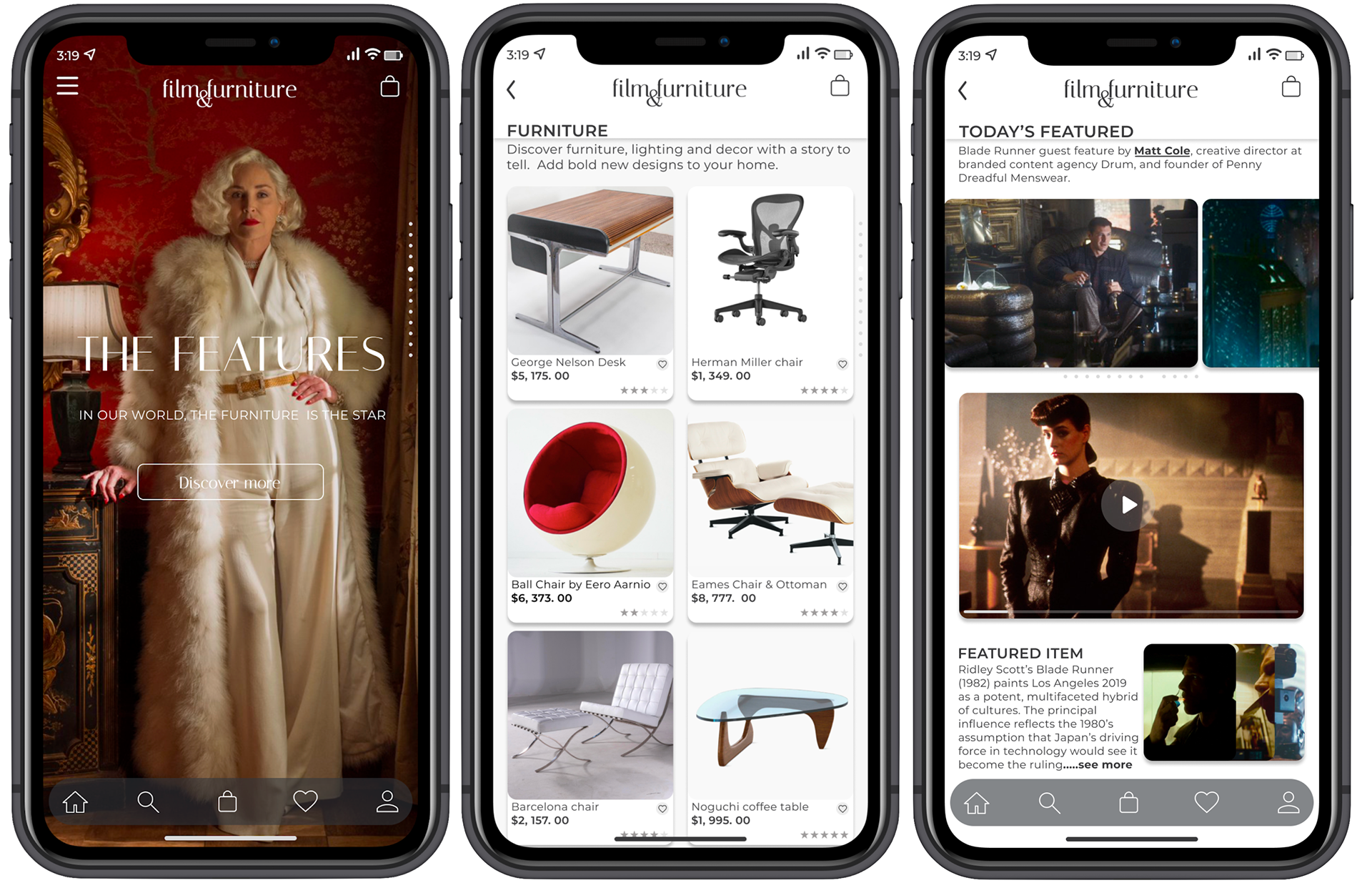 The prototype, along with the MVP
Through usability testing on the existing site, affinity mapping, and journey mapping led to
two MVPs:
• The cinematic decorator needed to
validate their purchase with reviews 
• Need for product info
and specification

s
The MVPs were simple enough that they
integrated with the overall aesthetic and ethos of the brand.
There was a final 
concern; was it the right balance between the number of overlays and the amount of hidden information?

The redesign achieved what I had set out to accomplish. The
project scope grew
due to
 iterations needed with each usability test.
With more time, I would add a help/documentation section, a full-functioning search bar, and the ability to share finds.
​​​​​​​

Let's reflect for a moment
Being a movie and interior design enthusiast myself, this project was a challenge for me to
keep my personal design opinions out
of the project. With the client being based in Europe, and limited availability in communication, I had to
take initiative
and proceed with the project.
Final Integrated features;
• Customer reviews with images
• Confirm specification page with measurements & product info
• View items in their home/office